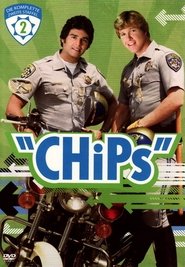 CHiPs Season 2 Episode 1
couple is trying to change place while driving and get stuck behind the wheel.
The driver of the motorhome behind them runs over the side when he's too much absorbed in looking at Jon pulling the entangled couple over.
Jon and Ponch are blamed for giving the driver a spinal injury when pulling him out of the car but they didn't. They have to prove their innocence.
Jon writing out a ticket to an old schoolmate. He offers him a job as salesman.
New mecanic Harlan has arrived and seems a bit odd.
Part of the CHP recruiting policy, Jon and Ponch have to give a motor demonstration to a group of hopefully new recruits.
Two idiots are having fun shooting up Baricza's car so they can read about it in the papers. Caught in the act by Baricza and Ponch, they go to jail instead.
Jon and Ponch on a night out at the disco, help a lady out who's water broke and is about to give birth
Episode Title: Peaks and Valleys
Air Date: 1978-09-16
Year: 1978